1. HOW DOES IT LOOK LIKE & WHAT'S IT MADE FROM?
Oil Miracle Rose by Schwarzkopf looks really pretty. The bottle is made of transparent plastic, is smooth and oil drop-shaped. It's narrow and slender closed with a golden cap. Indeed, the product's design is appealing. Although it features neither a pump nor a pipette (application is difficult), the bottle looks cute when put on a bathroom shelf.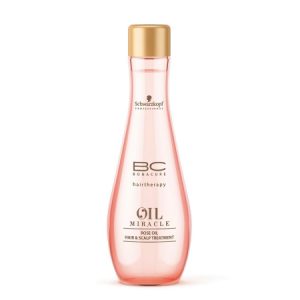 The product contains three kinds of natural oils, Wild Rose Oil, Rose Oil and Apricot Oil the aim of which is to deliver deep nourishment and moisturization as well as take care of the scalp.
The flower oils soothe the scalp by relieving irritations and blocking toxins from getting inside the hair. Unfortunately, Oil Miracle Rose also include monohydric alcohol (benzyl alcohol) that can distort work of the scalp if used long. A little is explained about the 'parfum' term; we don't know, whether we are applying a short-chained, bad alcohol, or maybe safe polyol.
2. WHAT TYPE OF HAIR IS GOING TO LIKE THE COSMETIC?
Oil Miracle Rose by Schwarzkopf can be applied to all hair and scalp types, however, the most of the product will be taken by the hair that has lost moisture, vitality and shine.
3. HOW TO USE IT?
Oil Miracle Rose can be applied in 3 ways:
Before hair washing (the oil is used for the scalp massage to be left for a few minutes).
To damp, washed hair, before proceeding with blow-drying.
To dry hair, right after shampooing and styling a hairdo so as to add shine to the strands and condition them.
While applying the product, it's important to use only a small amount of it. Otherwise, the oil will overburden the hair. When removing the product, the producer suggests shampooing the strands twice since this helps getting rid of the oil thoroughly.
4. WHAT'S THE EFFECT IT BRINGS ABOUT?
Oil Miracle Rose by Schwarzkopf moistens the scalp and leaves it clean. Thanks to this, hair can grow stronger, stops falling out and is no longer greasy. Also, the oil eases all possible irritations of the scalp. The hair gains shine and is silky to the touch.
5. WHY IS IT RECOMMENDED?
The hair oil is really beautiful and amazes with its subtle, rose smell. Moreover, it provides the scalp and hair with care. Oil Miracle Rose by Schwarzkopf surprises with the multitude of applications; it can be used as a hair mask, a scalp mask, a hair conditioner to damp or dry hair, or a serum for the hair ends.
6. BEWARE…
the troublesome application; the bottle of Oil Miracle Rose is pretty but impractical. The oil closed in it is rather runny and, unfortunately, spills easily
the benzyl alcohol that is irritating and dehydrating
the fragranced substances
the small amount of natural oils