1. HOW DOES IT LOOK LIKE & WHAT IS IT MADE FROM?
Natuta Siberica hair oil is a high-quality product closed in a beautiful package featuring a pretty label with flowery decorations and golden pressing. The bottle looks really nice and goes with a glass pipette. The whole design is subtle. This brand is famous for its beautiful packages.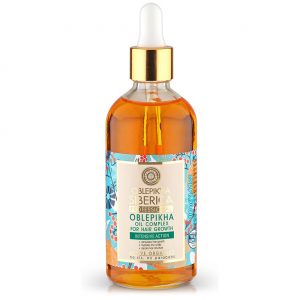 The hair oil contains an array of natural oils combined with other ingredients (mainly vegetable) that strengthen and regenerate strands:
European Olive – takes care of maintaining the right level of the scalp and hair moisturization. It delivers shine and softens the strands.
Sea Buckthorn Oil – poses a rich source of vitamins, amino acids and fatty acids belonging to omega-3, 6, 7 and 9 group. It's an intensive therapy that heals hair.
Phospholipids – the basic building block of the cell membrane.
Burdock Root extract – tones the scalp, acts anti-greasy, nourishes hair, hair bulbs and the scalp.
Argan Oil – protects hair both against any possible mechanical damages and against the hot air generated by a blow-dryer.
Jojoba Oil – normalises action of the sebaceous glands; thanks to this, the oil brings relief to the dehydrated scalp and limits excessive sebum production.
Glycolipids – pose a crucial element of the cell membrane.
Macadamia Oil – a lightweight oil that is absorbed by hair fast without weighing it down. It delivers fatty acids belonging to omega-7 group (palmitoleic acid). This acid is similar in composition to sebum produced by the human organism.
Glycine Soja Sterols – pose a great additive of Natura Siberica oil since they are responsible for slowing down hair ageing processes.
Sweet Almond Oil – is a relief for dehydrated and brittle hair. The oil is valued for its moisturising and soothing features. It's a diversity of vitamins A, D, B and E.
Organic Avocado Oil – poses a diversity of seven vitamins stimulating hair growth that are responsible for hair health. It counteracts hair loss.
Pepper Mint Oil – when applied to the scalp, it stimulates hair follicles to work; as a consequence strands grow longer.
True Cardamom Seed Oil – softens and smooths hair by supplying hair with vitamin C and minerals (iron, calcium, magnesium, phosphor, potassium, zinc and sodium).
Cedar Oil – is a source of poly-saturated fatty acids with the dominance of linoleic acid. The oil also takes care of the most dehydrated hair protecting the strands against mechanical damages and the adverse action of the external factors.
Wild Rose extract – contains a huge concentration of vitamin A and unsaturated fatty acids. It regenerates and conditions hair leaving it soft, full of vitality and shine.
Starflower Seed Oil – eases any possible irritations of the scalp leaving it clean and free of toxins.
Pichta Oil (Siberian Fir) – acts anti-inflammatory and leaves the scalp clean.
Oleic Acid Monoglyceride – creates an occlusive film on the skin and hair surface that counteracts excessive water loss. Thanks to this the acid takes care of proper moisture level of hair. Moreover, it conditions the scalp and hair by smoothing it and delivering vitality. It eases removing the preparation from the hair surface.
Glycerol Linolenate – also known as vitamin F.
2. WHAT TYPE OF HAIR IS GOING TO LIKE THE COSMETIC?
The oil is designed for all hair types. It's the ideal protection against damages the hair is exposed to (i.e. hot air generated by a blow-dryer, pulling hair out, frost, UV radiation). The oil also supports hair growth, nourishes and regenerates the strands, eases detangling and counteracts the problem of excessive hair loss.
3. HOW TO USE IT?
The oil has to be used at least two times per week. It has to be applied to the scalp; just 2-3 drops of the oil are enough. Natura Siberica has to be left on the hair for at least 2 hours and removed with a delicate shampoo afterwards.
4. WHAT'S THE EFFECT IT BRINGS ABOUT?
The hair becomes soft and silky to the touch right after the first application. Strands are no longer affected by frizz and stop falling out. Instead, they gain shine and are well-conditioned. The scalp becomes clean and maintains moisture at the right level. Hair bulbs are reinforced. The oil protects hair against damages.
5. WHY IS IT RECOMMENDED?
Sea Buckthorn Oil by Natura Siberica is well-composed and amazes with the diversity of natural oils that is combined with plenty of nourishing substances that strengthen hair.
6. BEWARE…
the glass bottle (can break)
the glass pipette (can also break since it's easy to drop it)
not pleasant smell
the accessibility; the product is hard to get