1. WHAT IT LOOKS LIKE & WHAT'S IN THE COMPOSITION?
Castor Oil is just one of the six irreplaceable beauty oils offered by Nanoil. They are all cold-pressed, organic, not refined. That's the best you can present to your hair (and skin!). The design catches the eye and is the first thing making natural Nanoil different from others. There are very few pure oils having such neat and fancy design. A black glass bottle holds straw-colour oil having subtle scent of natural castor oil. This formula is going to steal your heart during the very first use as (despite being thick) it slightly covers hair with a velvet-like layer.
Nanoil Castor Oil has extremely simple composition. Actually, it's just one substance, that is cold-pressed castor bean oil. A huge asset of this Castor Oil is being totally free from potentially irritating substances.
No parabens, silicones, colourants, fragrances, alcohols, which makes it the most natural hair oil in this comparison review.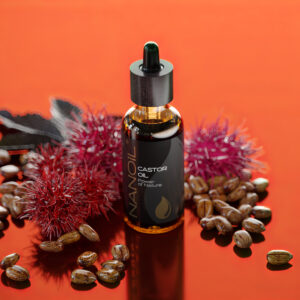 2. WHICH HAIR TYPES ARE GOING TO LIKE IT?
Above all, weak, thinning hair. Due to density, castor oil is more suitable for scalp rather than hair. It shows its full potential in treatment of irritated itchy scalp and persistent dandruff. Nanoil Castor Oil should be a pick of those who want to stimulate faster hair growth and add volume.
3. HOW TO USE?
It's a natural oil so there are endless ways of using it. Scalp oil treatment seems to be the most popular; to make Castor Oil work its best, dampen your skin. When hair roots are damp, the oil runs smoothly. Also, massaging scalp for a few minutes improves the oil's absorption.
4. WHAT'S THE EFFECT?
Nanoil Castor Oil is among the most popular beauty oils used on hair. The way it works is surprising during the first weeks of treatment when the oil:
strengthens hair follicles, blocking hair loss
makes hair stronger and thicker
accelerates growth for desner and fuller hair
stimulates baby hair growth
reduces dandruff and itchiness
prevents hair and scalp oiliness
What's worth noting, Nanoil Castor Oil works wonders as detoxifying make-up removing oil, natural eyelash growth serum or anti-breakage nail conditioner.
Why don't you test other natural beauty oils launched by Nanoil? You can choose between ultra-delicate almond oil, avocado oil rich in 7 vitamins, the most universal and brilliantly repairing argan oil, jojoba oil which soothes irritations and balances pH, as well as incredibly effective and nourishing macadamia oil. All Nanoil beauty oils are fit for application to both hair and scalp because of being unrefined and cold-pressed.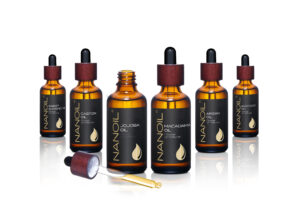 5. WHY IT'S AMONG TOP RECOMMENDATIONS
pure oil makes up 100% of the product's ingredients
unrefined and cold-pressed oil
for body and hair care
no preservatives or fragrances
maximum efficiency
hair growth boost and reinforcement
scalp care
suitable for full hair and scalp oil treatment
dark glass bottle secures the oil
6. WATCH OUT FOR…
original product is available only on the producer's site
glass bottle dropper which might slightly loosen