1. HOW DOES IT LOOK LIKE & WHAT'S IT MADE FROM?
Nanoil hair oil is sold in three versions. Each of them has a different list of ingredients. The difference primarily lies in the selection of the natural oils; they're composed to match a particular hair porosity type, or as some people see it, to match the hair damage extent. It's obvious that other substances are needed by heavy and thick hair, which is easy to overburden by improper care, and other substances are needed by dehydrated and distressed strands. For that reason, Nanoil is a series of three products, each of them focusing on a certain hair type. Moreover, each version of Nanoil contains from 6 up to 9 hair care oils – the diversity of the natural substances that have been long valued because of the profound nourishing, beautifying and regenerative effects they provide. Another key point, natural oils are the irreplaceable sources of the good fatty acids (omega-3, 6 and 9), contain plenty of vitamins, minerals and phytosterols that are responsible for collagen production, among others. Their action is supported by the range of conditioning substances that are crucial in hair regeneration processes. These additives include panthenol, silk, keratin and lanolin, to name just a few.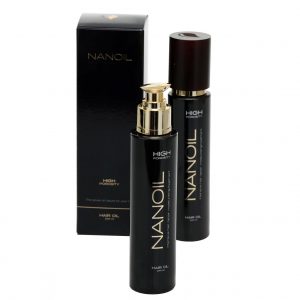 However, Nanoil is more than that. All three versions of the product contain the unique ingredients that base their action on natural substances (kerastim and baicapil) that are responsible for accelerating hair growth and thickening of the strands. Thanks to them, Nanoil slows down hair loss, too.
Good news is also the fact that Nanoil doesn't contain parabens, silicones or other dehydrating and irritating substances.
2. WHAT TYPE OF HAIR IS GOING TO LIKE THE COSMETIC?
Nanoil hair oil series is designed to make one oil version match a particular hair porosity type perfectly. For that reason, Nanoil hair oil series will get along with each hair type. All you have to do is take a thought about your hair condition and the needs of your strands, determine hair porosity type and then choose one out of three versions of the product.
3. HOW TO USE IT?
Nanoil hair oil is exceptionally convenient to use. It can be applied to hair in many ways, depending on the effect we look forward to obtaining and the degree of regeneration the strands need.
Nanoil can be applied to the scalp and strands, no matter if damp or dry, it can be used before or after hair shampooing, or before blow-drying (as a heat protection lotion). Moreover, the oil can even serve as a strand conditioning emulsion, it facilitates hair styling, delivers gloss to the strands, tames frizz and protects the hair ends. Nanoil can be used a few times a day. As it's easy to see, Nanoil is a wonderful and multitask product that delivers comprehensive care to hair.
4. WHAT'S THE EFFECT IT BRINGS ABOUT?
Nanoil FOR LOW POROSITY HAIR takes care of thick and heavy hair, raises it up, gifts hair with lightness and guarantees successful styling. Moreover, the oil protects hair against damages, delivers shine and conditions the scalp.
Nanoil FOR MEDIUM POROSITY HAIR takes care of strands the condition of which has become significantly deteriorated; the oil fixes the hair, takes care of the dehydrated ends, counteracts frizz, facilitates styling, delivers gloss and adds softness.
Nanoil FOR HIGH POROSITY HAIR regenerates damaged hair, replenishes it with water, counteracts further damages and water loss, rebuilds the keratin coat and thorn bonds inside the hair, delivers gloss and increases hair flexibility.
Each of the three versions of Nanoil accelerates hair growth, encourages hair bulbs to efficient work and prevents excessive hair loss. Also, all three versions increase the volume of hair.
5. WHY IS IT RECOMMENDED?
contains the diversity of natural oils
regenerates and protects hair
improves look of hair instantly
paraben-free
can be applied to the scalp
a beautiful, black, glass bottle
matches hair needs and its porosity
efficient, smells beautifully
6. BEWARE…
the price (for a high-quality product you have to pay a little more)