1. HOW DOES IT LOOK LIKE & WHAT'S IT MADE FROM?
Amla Dabur hair oil is closed in a flat, plastic bottle. Since the bottle is transparent, it's easy to see the product (runny, dark green) through it. The cosmetic has 100 ml capacity and, unfortunately, it isn't efficient. In order to apply it to hair, you have to be plucky since the oil has very intensive and unpleasant smell that irritates and is present for a few hours after being removed. Neither a shampoo nor a conditioner can eliminate this intensive aroma.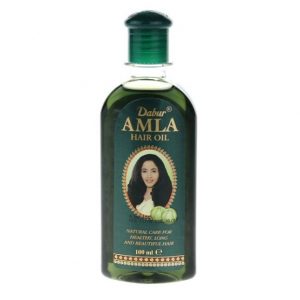 Dabura Amla is frequently bought by everybody, regardless of the sex, who suffer from hair loss, baldness and greying. The oil contains Amla extract of a high concentration. This Hindu herb combined with Canadian Castor Oil has to improve the processes taking place in the scalp, slow down hair ageing processes, greying and strengthen hair bulbs to make the strands grow faster and become stronger. The oil is very popular in India and is gradually gaining more popularity in other parts of the world. Not only does the low price encourage people to buy the product but also the outcomes it delivers (after approximately two or three month of regular use hair stops falling out).
Moreover, Amla encourages hair to grow so the product poses a solution for people who try to grow long hair.
Unfortunately, Dabur Amla hair oil, despite following Ayurveda principles, it isn't made only of natural substances that are safe to the scalp. To clarify, the product stores, among others, so-called, bad, monohydric alcohol (benzyl alcohol). Moreover, the substances responsible for carrying the smell along with Butylated hydroxytoluene (BHT) also belong to alcohols. What's also worth mentioning, Dabur Amla includes a high amount of paraffin which doesn't influence hair and the scalp in a positive way if used for a long time.
2. WHAT TYPE OF HAIR IS GOING TO LIKE THE COSMETIC?
Dabur Amla is destined for hair which lacks vitality and starts falling out. Its aim is to provide relief to the scalp and help remove dandruff. All those who noticed the first grey hair are also invited to take advantage of Amla Hair Oil.
3. HOW TO USE IT?
Amla Dabur has to be applied to the scalp and hair (obviously, if you're fine with the irritating smell). Just a small amount of the cosmetic is enough (otherwise you can overburden the hair as it can be difficult to remove the oil). Dabur Amla should be left on hair for minimum 2 hours. After that, you have to rinse it off using a delicate shampoo.
4. WHAT'S THE EFFECT IT BRINGS ABOUT?
Dabura Amla accelerates hair growth and counteracts hair loss. Moreover, the product conditions hair, delivers pretty shine and leaves the scalp clean. Unfortunately, the frequent use of the product can deliver adverse effects – hair might become dehydrated, the scalp might produce the excessive amounts of sebum as the hair bulbs might get weak with time.
5. WHY IS IT RECOMMENDED?
Dabura Amla is cheap and the outcomes of the action it delivers are noticeable fast. Hair becomes stronger and grows faster.
6. BEWARE…
the very unpleasant, intensive smell, which is hard to get rid of
the application (runny liquid that can be spilt easily as the application itself is difficult)
the alcohol in the composition (more than one)
the long application that can put sebaceous glands out of order and weaken hair again
hair colour changes; Daur Amla may change colour of fair hair