1. HOW DOES IT LOOK LIKE & WHAT'S IT MADE FROM?
Hollywood Beauty Castor Oil is closed in a white, plastic jar featuring a green cap. This kind of package is determined by the consistency of the product. Hollywood Beauty Castor Oil looks like petroleum jelly. Actually, the plastic jar isn't attractive at all and resembles more of a floor polish than a cosmetic.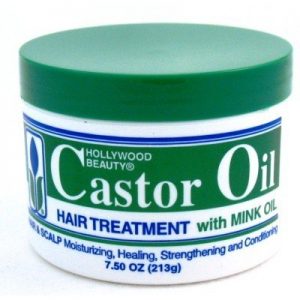 However, it shouldn't be cross out from the shopping list. Hollywood Beauty Castor Oil contains an array of natural oils, vitamins, lanolin and aloe extract. The oil can speed up hair growth process even up to 5 cm within a month.
This action is delivered thanks to the natural oils the product is made from.
Castor Oil – accelerates hair growth and delicately intensifies the natural colour of hair. It's considered as the irreplaceable substance in the fight against dandruff.
Jojoba Oil – leaves hair shiny and soft; contains the unique fatty acid (eicosane) that belongs to mono-saturated fatty acids group. It takes care of the scalp, strengthens hair bulbs and delivers moisture. Moreover, it protects hair and the scalp against the damaging action of UV radiation and works anti-bacterial. It reinforces follicles thanks to which hair grows healthier.
Almond Oil – is a very delicate and beautifully smelling oil that works soothing. It poses a source of vitamin A and E, increases the elasticity of hair and slows down ageing processes. Furthermore, it prevents water from evaporating. Almond Oil regenerates dehydrated, brittle and damaged hair.
Crocus Oil – it's a very exclusive oil which conditions hair, delivers shine and intensifies the natural colour of hair. It counteracts frizz and takes care of the scalp blocking environmental toxins from getting inside the hair.
Cocoa Butter – has regenerative features, complements vitamin deficiencies in the scalp and hair, delivers gloss and vitality. Cocoa Butter gifts hair with beautiful, intensive shine.
Aloe Extract – moistens hair and, as a result, it gains shine and stops being frizzy.
Hollywood Beauty Castor Oil also contains a significant amount of lanolin which softens hair and gifts it with elasticity. Furthermore, this substance protects the strands against mechanical damages. Included in the product's composition Mink Oil (the producer states that no animal suffers at obtaining the substance) poses a diversity of poly-saturated fatty acids and glycerides. It has softening features and protects skin and hair against the adverse action of the environmental factors. Furthermore, it strengthens lipid barrier of the scalp, softens, nourishes and protects hair.
2. WHAT TYPE OF HAIR IS GOING TO LIKE THE COSMETIC?
Hollywood Beauty Castor Oil is recommended for all hair types, and to be more precise, it's suitable for all scalp types since the product has to be applied to the scalp only.
3. HOW TO USE IT?
Just a small amount of the oil has to be applied to the scalp. You have to be careful not to apply too much of the product since it can overburden hair. Moreover, it's hard to remove the cosmetic from hair if applied in the galore amounts.
4. WHAT'S THE EFFECT IT BRINGS ABOUT?
The oil takes care of the scalp and stimulates the action of the sebaceous glands. At the same time, Hollywood Beauty Castor Oil strengthens hair bulbs and accelerates hair growth making hair become thicker and healthier gradually. If used regularly, it encourages baby hair to grow.
5. WHY IS IT RECOMMENDED?
Hollywood Beauty Castor Oil nourishes and protects hair and, at the top of it, the product influences fast hair growth. The oil has a delicate and pleasant smell. It's very efficient.
6. BEWARE…
the consistency; Hollywood Beauty Castor Oil is dense so it's easy to apply too much of it
the huge amount of paraffin wax since it can be comedogenic
the ugly package
the animal origin product; Mink Oil may not be appealing to the animal rights defenders